Nadi is one of the 8 tests in the Kundli Milan or kundali matching process. Nadi koota is the most significant test carrying the highest points i.e. 8 points. The test assesses and matches the health compatibility of the proposed partners. The Nadi of the proposed couple should not be similar. If it is similar, the result is known as Nadi Maha Dosha.
The nadi dosh is detected during the horoscope matching. Horoscope matching is performed to ensure that the proposed marriage will be a happy and successful one. Further, we have explained nadi dosha and its solutions in detail.
What is Nadi Maha Dosha & Meaning?
In order to understand nadi dosha, we need to know what is nadi dosha in astrology. In Vedic astrology, Nadi is one of the 8 aspects or kootas which are matched during the kundali Milan. Every kootas carry certain points. Nadi carries 8 points in Guna Milan which is the highest. Varna, Gan, Yoni, Vaishya, Maitri, Tara, and Bhukut are other aspects or kootas. Hence, Nadi is important in horoscope matching. There are 3 different types of nadi – Aadinadi, Madhya nadi, and Antyanadi. Hence, if the boy has Aadinadi, the girl should be with Antyanadi or Madhyanadi.
Impacts of Nadi Dosh on Kundali Matching
What exactly happens when there is a nadi dosh in kundali matching. If the boy and the girl have similar nadi, it is not considered good.
Having similar nadi or nadi dosh may have the following consequences in the marriage.
A married couple might face health-related issues
Marital life can be full of disputes
Infertility problems may arise
Couples may have child related or childbirth problems
The couple may feel a loss of love and attraction in their relation
In a nutshell, couple with nadi dosha may face health-related issues in future. Either one or both the spouses may have health issues.
Remedies for Nadi Maha Dosha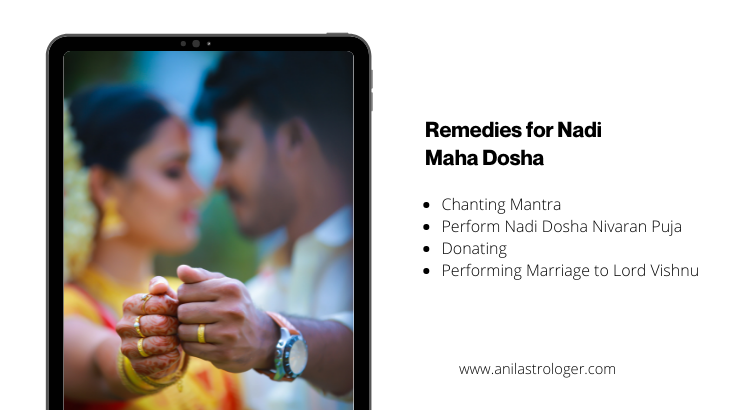 Astrology not only diagnoses problems in horoscopes but also recommends solutions. Our astrologer Anil Bhargav has provided successful solutions for Nadi dosha. Here are the remedies for nadi dosha problem. Many parents or proposed couples approach astrologers for the removal of Nadi maha dosha. There are various remedies like chanting mantras for reducing the ill effects of Nadi dosha.
Chanting mahamrityunjay mantra as recommended by an astrologer
Using or wearing a particular gem
Using particular Suraksha yantra prescribed by a learned astrologer
Performing a nadi dosha nivaran puja or ritual
Donating to needy families
Donate grains and clothes to Brahmins
However, do consult a veteran astrologer for the implementation of nadi dosh remedies. Follow the instructions of the astrologer while performing the remedies.
Nadi Dosha Cancellation
Apart from guna calculations, there are special rules in astrology that cancel doshas. Nadi dosha occurs when a boy and girl both share the same nadi. However, nadi dosha is considered canceled using different ways.
If the boy and girl both share the same zodiac sign but are born in a different nakshatra, the nadi dosh stands cancelled.
If both the spouses are born in the same nakshatra but have different zodiac signs
Nadi maha dosha is cancelled if the spouses are born in similar nakshatra but have different charans
Apart from above, there are other nakshatras and horoscopic conditions which cancel nadi dosha. Cancellation of Nadi dosha means that in spite of similar, it will not impact married life due to special horoscopic conditions.
[ Aslo Check: – best astrologer in india ]
Nadi dosha is determined by checking the nadi of the boy and the girl. But there are exceptions and it requires a detailed analysis of the horoscopes of the proposed couples. Apart from Nadi dosha, there are gandosha, bhakutdosha, and another dosha. A learned astrologer can suggest remedies to resolve such adverse conditions. Consult only a well-known and learned Nadi dosha astrologer to analyze the dosh and get effective remedies.
Get Free Advice from Best Astrologer in India and Know Most Trusted and Best 10 Astrologers in India
[ Aslo Check: 5 Zodiac Pairs That Are Most Compatible for Marriage]